Would you like to end stress & overwhelm and gain the ability to focus?
This is a short practice, that can give you clarity and inner peace.
During this 20 minute guided meditation, you connect to your heart, so you can find your answers withing.


There are two ways to go about things in life:
Burning the candles on both ends, and being reactive, rather that proactive, or training our muscle to stay centered and focused during the day. This way we are able to distinguish between what needs our attention and what doesn't.
As a spiritual teacher and holistic business consultant, I have been meditating over 15 years. I can feel a great difference whether I meditate or not. It's enough to make me wanna stick to my practice. 😉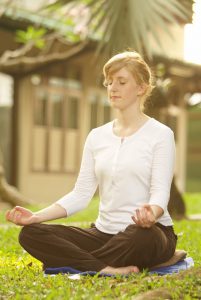 This Meditation practice, called the "Meditation of the Heart", is a 20 min silent practice. 
The purpose is to expand our love within and around us, for inner guidance and protection.
This is a silent meditation and we repeat the mantra "God is love" within.

For further guidance, and getting unstuck to create more flow in your business or relationship, book your  30 min complementary discovery session. I am looking forward to getting to know you.